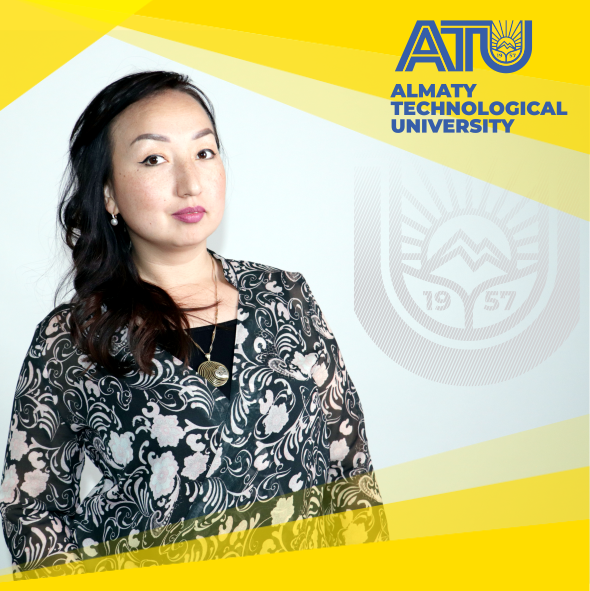 Lector
Phone:
+7 (727) 392-88-68
E-mail:
bazarova_dinara85@mail.ru
Main scientific Publications:
Introduction of new information technologies in the process of learning foreign languages November 23-25, 2016, Shanghai, China.
LINGUO-CROSS-CULTURAL APPROACH IN ENGLISH LANGUAGE LEARNING 6 November 23-25, 2016, Shanghai, China.
FEATURES OF the development of VOCABULARY of THE system of DIMENSIONAL features, DIMENSIONAL TOOLS AND units of MEASUREMENT of the HUMAN body ON the MATERIAL of ENGLISH AND RUSSIAN languages Ivanovo state textile Academy (Ivanovo), – № 4 (364), 2016.
Features of translation of names of national clothing from Kazakh language to English language Ivanovskaya state textile Academy (Ivanovo), – №5 (371), 2017.
«The Role of Language Portfolios in the formation of Reflexive Competence in Teacher Teacher Training Education» Almaty, 2019.

Application of game technology in english lessons. Kazak national Pedagogical University named after Abaya, September 2020. KSON
Participation in international scientific conferences:
Особенности применения инновационных технологий в процессе обучение переводу Қазақстан жоғары мектебі ISSN 1560-1749, 2015;
Диалектное немецко-казахское и немецко-русское двуязычие и его типы  Москва: Научный журнал «Chronos», 13.11.2016г. – ОБУЧЕНИЕ ИНОСТРАННОМУ ЯЗЫКУ В НЕЯЗЫКОВОМ ВУЗЕ: ФОРМИРОВАНИЕ ПРОФЕССИОНАЛЬНОЙ ИНОЯЗЫЧНОЙ КОМПЕТЕНЦИИ г. Семей 15.01.2016»;
Intercultural Component of the Linguistic analysis of the English-Language Media Text ҚазХҚ және ӘТУ г. Алматы 18.01.2017;
ТЕCHNOLOGIES OF FORMING CRITICAL THINKING BY MEANS OF VIDEO МАТERIALS IN FOREIGN LANGUAGE LESSONS IN THE PROFILE SCHOOL г. Нұр-Сұлтан, 2020 Октябрь.
2008 г. – Курсы перевода «Технология письменного и устного перевода (72 часа)»;
16 ноября – 14 декабря 2009г. – «American`s Show Path toward Democracy through Reform Movement, 1787 – 2009»;
12 октября 2009 г. – Cambridge ELT Teacher Training Seminar;
Октябрь 2009г. – «Methodological Seminar Training Program»;
28-29 ноября – S. Embassy the Regional Language Office;
5-7 сентября 2012 семинары: «Социальная модернизация в Казахстане: полиязычное образование в эпоху глобализации» и «Двуязычие и полилингвизм в эпоху глобализации»;
13 января 2012 г. – «Topical Problems of Teaching Translation»;
23-24 апреля 2013 г. – A.C.E. «Making the World Your Community»;
17-20 апреля 2013 г. – Обучение в рамках IV Международной школы переводчиков художественной литературы стран СНГ ILTS 2013 29.08 (6.00);
3-7 декабря 2013 г. – «Approaches to Discourse» «Current Issues in Language Studies»;
13 декабря – 27 декабря 2013 г. – «Академическое письмо»;
1 февраля 2014 г. – «Сurrent Trends in Modern Translation Studies»;
4 февраля 2014 г. – «Academic English in Practice»;
15-25 ноября 2014 г. – «From Meaning to Form»;

November 5, 2015 – «Learner-Centered Teaching with New Headway 4

th

Edition»;



January 20-22, 2016 Quality in Language Teaching and Assessment;
September 18th – October 20th, 2017 – «Teaching Academic Writing» From Meaning to form (Methods of Teaching English);
October 25th – November 12th,2018 – «Theory and practice of Translation»;
May 28th – June 4th,2018 – «21st Century Foreign Language Teaching Paradigms»;
23 февраля 2018 г. – «Современные технологии обучения языкам для специальных целей».